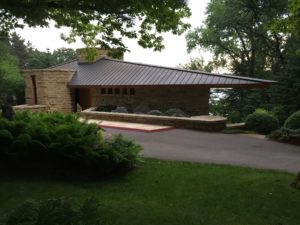 Niwa Design Studio applies its knowledge of Japanese garden design principles to a Frank Lloyd Wright home near Still Water, Minnesota.  Niwa's client, who owned an original Frank Lloyd Wright house plan, hired an architect to help interpret the plan and construct the home on the shores of a Minnesota lake.  The mountain scene entry garden sits nicely between the limestone walls of the home and planters.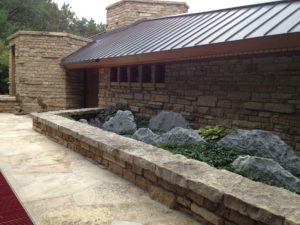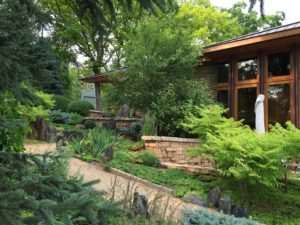 The hillside pathway garden leads guests under the dramatic pointed roof overhang that frames the hill top view of the lake below.
While the lakeside garden shows off a sculpted lawn court with unique stone work that offers sitting areas and stone outcropping overlooks.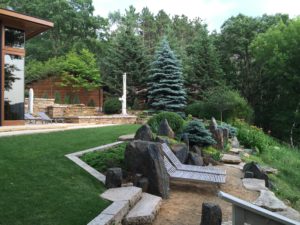 The gardens are also the home of wonderful art pieces that are discovered while walking through the properties outdoor spaces.  Like this Frank Lloyd Wright Sprite found in the lakeside garden, looking back toward the home.